Whose Risk Is It?
Staffing Industry Risk Philosophy
Staffing clients probably deal a lot with typical contractors. These are companies that promise to deliver a particular product or operational result. For example, you might use contractors to repave a parking lot or to develop a computer program. When you do this, you rightly expect the contractor to pay for everything that might go wrong because it controls the whole project.
A staffing firm is a contractor, but its financial exposure is necessarily more limited than that of most contractors. Staffing firms assign employees to work on client business. Although staffing firms control and stand behind their own services, namely providing assigned employees qualified to work under a client's supervision, they don't control a client's business. Assigned employees work among the other elements and tools of a business that a client controls, including management, equipment, materials, systems, finance, design, quality control, procedures, planning, marketing, distribution, etc. Consequently, staffing firms cannot assume client business risks of which they have no knowledge, control, or financial interest. Staffing firms do, however, relieve clients of some risks that go with all employees, such as providing workers' compensation.
A contract between a staffing firm and a staffing client should fairly define their respective responsibilities. Using the philosophy of "Whose business is it?" such a contract should be based on the following principles:
The staffing firm is in the staffing business, not the many different businesses in which its clients operate.
The staffing firm and its client should be responsible for things of which each, respectively, has knowledge, control, and financial interest.
The staffing firm and its client do not know, control, or profit from the other's business operations.
Therefore, the contract's indemnity language should allocate responsibility according to the practical realities and responsibilities of each party's businesses.
These principles are reflected in the responsibility and indemnity provisions of the General Staffing Agreement.
Risk Matrix
Two tables illustrate the staffing industry risk philosophy, showing at a glance how risks should be allocated in a staffing relationship based on the "Whose business it is?" principle. The shaded columns show risks borne by the staffing firm.
Employee Conduct
This table shows how risks associated with employee conduct are allocated based on whether the conduct occurs as part of the staffing firm's business or the client's business. "Assigned Employee" refers to temporary and contract employees assigned by the staffing firm to work in the client's business. "Staff Employee" refers to nonassigned employees, such as the corporate headquarters or branch employees of the staffing firm or the client's direct employees (employees on the client's payroll).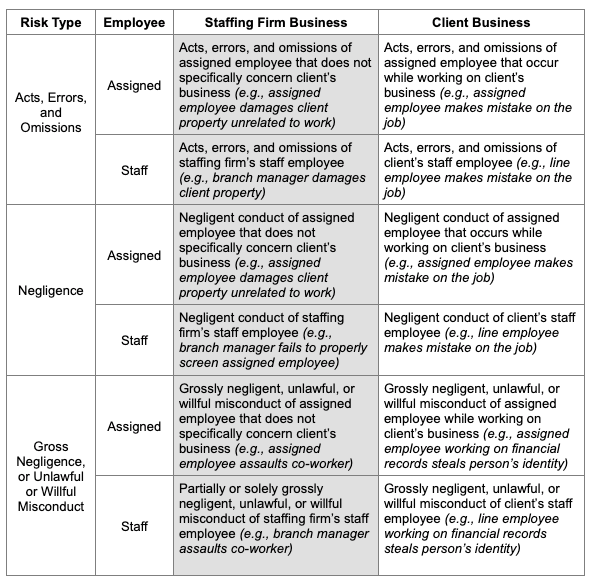 Employer Obligations
This table shows how risks associated with employer obligations are allocated based on whether they are part of the staffing firm's business or the client's business.